UNLIREC, in collaboration with UNESCO, conducts webinar 'Violence in schools: challenges and responses'

On 25 May 2022, the United Nations Regional Centre for Peace, Disarmament and Development in Latin America and the Caribbean (UNLIREC), in collaboration with UNESCO Cluster Office for the Caribbean, carried out a webinar on 'Violence in Schools: Challenges and Responses' for Jamaican audience. Twenty-four participants, including 18 women, from Ministry of Education and Youth, University of West Indies, Jamaican Constabulary Force, Ministry of National Security, Civil Society Organizations, UNESCO, UNICEF, and Major Organized Crime and Anti-Corruption Agency of Jamaica actively participated in the webinar.

Over the past few decades, media reports of incidents involving firearms in schools have been increasingly recurring in many countries of the region. These incidents which include both the presence and use of firearms inside schools have led to injuries and fatalities as a result of intentional and accidental gunshots. This phenomenon poses enormous challenges in ensuring safe learning spaces for children and adolescents in the region.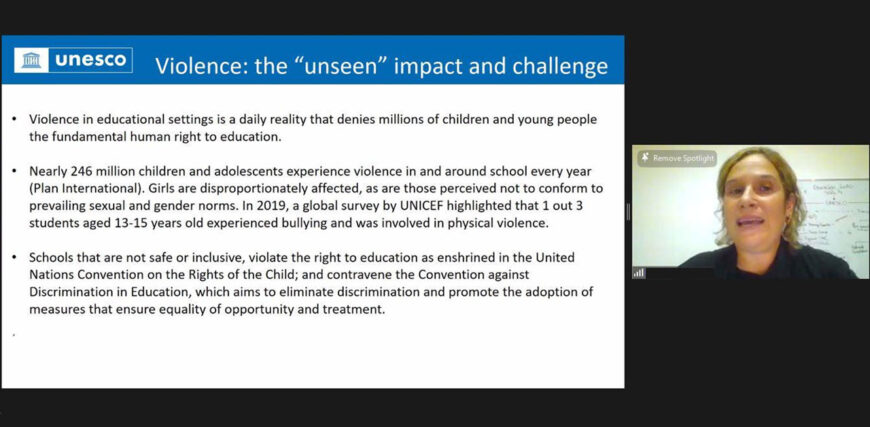 Against this backdrop, the webinar included a presentation from UNESCO on the impacts of violence in the region and highlighted responses that can be adopted to combat violence in schools. Meanwhile, UNLIREC presented its study on 'Firearms in Latin America and Caribbean Schools- Approaches, Challenges and Responses'. With a focus on the Caribbean, UNLIREC presented a regional overview of armed violence in schools and shared different responses being implemented in the region to tackle the presence and use of firearms in schools.

The webinar also included an engaging panel discussion on prevalent forms of violence in schools in Jamaica and school-based intervention programmes being implemented to combat such violence. The panelists included a representative from the Ministry of Education and Youth, a professor from University of West Indies and a youth leader from Bully Proof Kids (NGO). Through this webinar, UNLIREC facilitated a national dialogue by providing an opportunity for the participants to ask questions and share experiences on violence in schools in Jamaica.
This webinar forms part of the Salient Fund project aimed at reducing violence and proliferation of illicit firearms in Jamaica.