From 25 – 28 January in St Kitts and Nevis, and from 31 January – 2 February in Trinidad and Tobago, the United Nations Regional Centre for Peace, Disarmament and Development in Latin America and the Caribbean (UNLIREC), in collaboration with the Governments of both States, hosted 2 Serial Number Restoration Courses.
Obliterating serial numbers on firearms to mask their origin, is a common practice for criminals, facilitating both illegal use and illicit trafficking. The absence of serial numbers on firearms recovered at crime scenes in the Caribbean hinders the ability of States to trace all illicit firearms. The national Serial Number Restoration courses were developed to support States' efforts to address the tracing of illicit firearms, through the provision of the technical training to forensic firearms scientists who are often required to restore the characters and numbers that have been obliterated.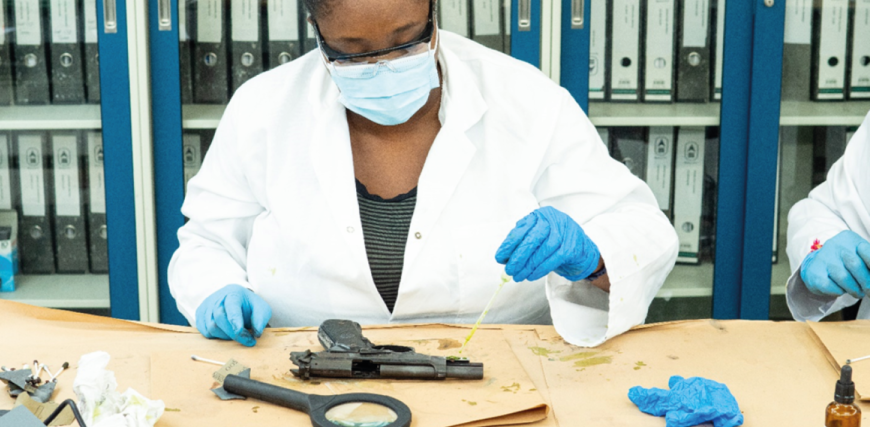 In St Kitts and Nevis, 6 firearm examiners, including 2 women, from the Royal St. Christopher and Nevis Police Force participated in the training. Similarly, in Trinidad and Tobago, 1 firearm examiner from the Forensic Science Centre and 3 crime scene officers, 1 female, from the Police Service, participated in the course which consisted of hands-on use of Magnetic Particle Recovery and Chemical Etching Methods to recover obliterated serial numbers on firearms.
Serial number restoration has proven to be a key and necessary tool to trace firearms back to their last known legal owner and make use of the various regional and international tracing platforms. Throughout the region, restoration techniques have been used to support criminal investigations, successfully trace firearms and disband trafficking networks.
The Serial Number Restoration course contributes towards the implementation of Goal 3 of the Caribbean Firearms Roadmap, Bolster law enforcement capacity to combat illicit firearms and ammunition trafficking and their illicit possession and misuse, and ammunition, and ultimately reducing firearms-related crimes and armed violence in the Caribbean. The course was made possible thanks to support of the governments of Canada and United States of America.
UNLIREC, as the regional organ of the UN Office for Disarmament, seeks to advance the cause of practical disarmament in Latin America and the Caribbean as part of its commitment to support Member States in their implementation of international disarmament and non-proliferation instruments, in particular, the 2001 UN Programme of Action on Small Arms.