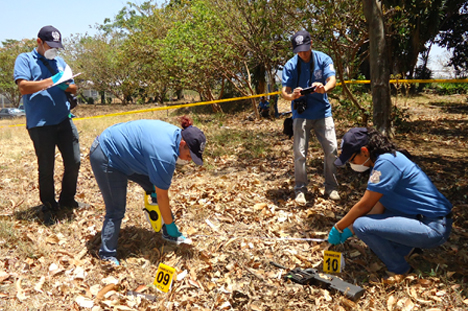 UNLIREC has established itself as a dynamic centre specialized in disarmament, conventional arms and in the non-proliferation of weapons of mass destruction. There are two main programmatic areas: (1) conventional arms control programme; and (2) non-proliferation instruments programme through which all assistance is carried out.
UNLIREC is proud of its in-house disarmament policy, legal and technical experts who are fully bilingual in Spanish and English. This 18-member strong core is responsible for conceptualizing and implementing all project activities ranging from reducing armed violence to bolstering trade controls over items of proliferation concern and leading exploratory research into areas, such as stray bullets, ammunition trafficking routes in the Caribbean, and less lethal weapons. The aim of which is to shed additional light on public security issues of concern to the region, and to contribute to current debates in the fields of arms control.
We invite you to explore our two progammatic areas below for more insight into UNLIREC's approach to strengthening peace and security through regional disarmament in alignment with UNODA's Gender Mainstreaming Action Plan, Agenda 2030 and the Sustainable Development Goals.
Member States of the region continue to identify the combat of arms trafficking as the number one disarmament and arms control priority in the region. In response, activities aimed at improving public security through the prevention and combat of illicit trafficking in arms, ammunition and explosives, are at the core of
UNLIREC's
Conventional Arms Control Programme. All project activities are carried out with a view to supporting the implementation of international disarmament instruments, most notably, the Programme of Action on Small Arms and Light Weapons (UN 2001 PoA) and the International Tracing Instrument (ITI). Click on the links below to learn more about
UNLIREC's
projects to help States bolster public security in the region through improved conventional arms control.
Member States of the region continue to call upon UNLIREC for support in combating the threat posed by the proliferation of weapons of mass destruction (WMD) to international peace and security. In response, UNLIREC designed activities aimed at promoting a "disarmament culture" through improved regional dialogue, legislative and technical support, and alliances for improved strategic trade controls as part of its Non-proliferation Instruments Programme. Click on the link below to learn more about UNLIREC's project to bolster implementation of multilateral non-proliferation treaties, in particular, United Nations Security Council resolution 1540 (2004).

Supporting Implementation of UN Security Council Resolution 1540 (2004) on WMD Non-proliferation
In resolution 1540 (2004), the Security Council decided that all States shall refrain from providing any form of support to… See more →